Whether you're a serious athlete or working out casually, quality equipment is a must on your path to achieving your personal fitness goals.
Can you still get away with making a compromise on your training shoes quality if you're not ready for a real investment? The answer is simple – when buying sports shoes there is no time for cutting corners.
All sports equipment is primarily designed to enhance performance during a variety of physical activities [1]. Sports gear designers make sure their products fit the needs of people with a wide range of foot builds.
However, it's still important to invest some effort in selecting the right pieces that fit your exact needs and let you make the most out of your training.
Choosing the best workout shoes can turn into a nightmare even for experienced sportswomen. With that in mind, I've created this list of the best gym shoes for women.
I focused on three main aspects while putting together this list: the performance, the type of physical activity each sneaker is ideal for, and the overall design.
Top 12 Women's Gym and Training Shoes
1. Nike Women's Quest 2 Running Shoes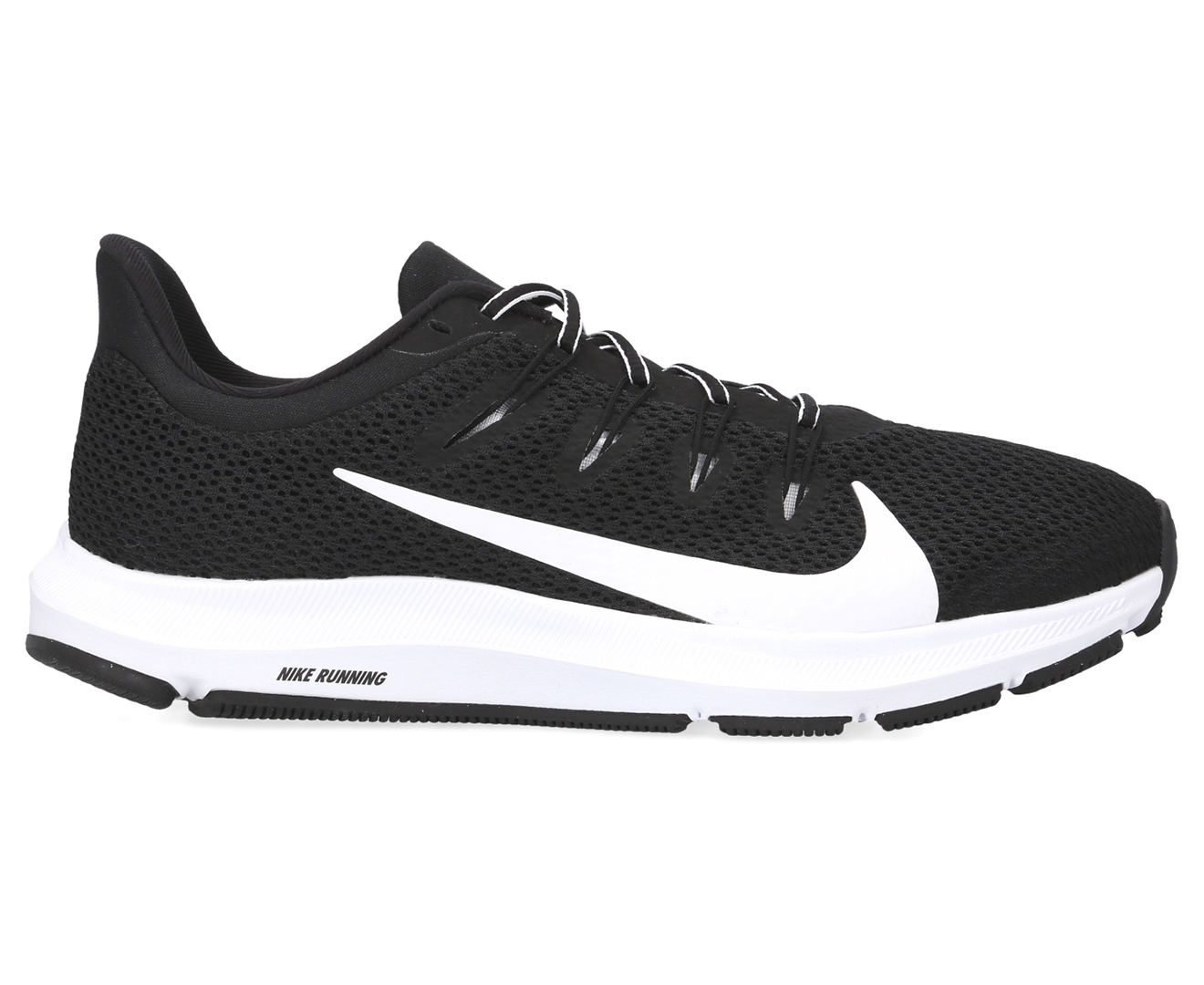 Here we have one of a kind Nike women's training shoe ideal for running with impeccable style.
One of the reasons why these are the best workout shoes is the lightweight build and the level of stability you'll get.
You may feel like you found a new best running buddy in these Nike trainers for women. They have Flywire cables armour to minimize weight and maximize support.
Pros
Great and adjustable fit
Light and absorbing sole
Trendy design
2. Puma Women's Zone XT Metallic Training Shoes
Comfortable, highly functional and sophisticated are the three words that come to mind when describing this top-notch Puma footwear for women.
They are made out of elastic knitted material for the ultimate sock-like feeling and support. Its rubber sole makes them ideal for gym training, cross training, and weight lifting.
Puma developed a special Hybrid cushioning that allows a light feel while offering the best support during high-intensity training.
Their effortless look makes them a stylish accessory you must have.
Make sure to measure your feet before purchasing. Check the size chart for the best fit!
Pros
Special Hybrid cushioning
Elastic knitted material
Comfortable
3. Skechers Women's Dynamight Ev l00 Trainers
Here is some seriously flexible and comfortable footwear that will motivate you to work hard for achieving your fitness goals.
The soft-woven material makes this pair of workout shoes highly breathable and lightweight. The cushioned memory foam acts as an excellent traction cloud that will protect your feet and will provide the necessary support and balance.
They come at a great and affordable price but their design is very simple and will not suit you if you are looking for more stylish sneakers.
Pros
Affordable
Flexible
Comfortable
Cons
Not available in all sizes/colours
4. Nike Women's Renew Ride Running Shoes
If you are on a hunt for a pair of reliable shoes for running that is affordable at the same time, your best bet is the Nike Women's Renew Ride.
This model is made from a high-quality mesh material that will allow your feet to breathe. It's designed for women with plush foot cushioning for a soft and stable run.
The dual-density sole is designed to make every run an excellent and effective experience.
Pros
High-quality mesh material
Dual-density sole
Affordable
Cons
Not ideal for flexibility workouts
Limited colour choice
5. ASICS Women's GEL-Nimbus 21 Running Shoe
This eye-catching model of active footwear is ideal for women on the go. From the street to the gym, these sneakers are designed with comfort and performance in mind.
An ideal fit ensured by the Impact Guidance System technology that will adapt to your pace and movement. It has a combination of gel technology and TRUSSTIC SYSTEM technology for added cushioning and stability.
These shoes are made to be durable. Its great design is accompanied by strong and vibrant colours.
Be aware that it has a relatively high heel of the sole – approximately 4 cm.
Pros
Gel technology
Durable Comfortable
6. Nike Women's WMNS Metcon 5 Trail Running Shoes
If you are on the hunt for a pair of sneakers that are effortlessly stylish, comfortable, and ideal for weight treating then look no further.
These workout shoes are best for indoor/gym training. They have sticky soles which are ideal for weights training with low traction.
They have a unique and chic design that will lift your spirit every time you are headed for the gym.
This model is great but it's not really for outdoor activities.
Pros
A unique and chic design
Best for indoor workouts
Comfortable
Cons
Pricey
Only one colour combination available (White/ University Gold/ Laser Fuchsia.)
7. Nike Women's Air Max Advantage 3 Training Shoe
The Nike Air Max Advantage 3 will take you anywhere. Feel free to stroll the streets or hit the gym in these trainers.
It has a Visible Nike Air heel unit and cloudy cushioning which means they are very comfortable.
They are made out of breathable mesh material with a bendy sole packed in a lightweight build. I would recommend this model to beginners. It's not for experienced sportswomen.
They have a simple design and yet the price is relatively high.
Pros
Comfortable
Cloudy cushioning
Breathable mesh material
8. Nike Women's Legend React 2 Running Shoes
Feel secure and comfortable while running with these Nike Legend React 2 sneakers. Upgrade your next training by picking a pair of these running shoes and let your feet enjoy the ride.
The sole of the sneakers is soft and wide, adjustable to your step and the height of the heel assures good traction.
This model comes with supportive synthetic overlays for a tight grip. It's for more experienced runners.
Pros
Very comfortable
Supportive synthetic overlays
Cons
Higher price in comparison to other shoes made specifically for running
9. Nike Women's Air Max Excee Sneakers
These '90s inspired workout shoes are a good choice for everyone who wants to feel stylish while lifting weights at the gym or walking around the city.
They come with a visible Air heel cushioning unit for that retro-inspired look. Air Max Excee sneakers, like all Air Max models, are extremely comfortable. They have a lightweight foam that makes the sole extremely soft.
These shoes have a unique design but this model lacks certain flexibility.
Pros
Lightweight foam
Extremely soft
Visible Air heel cushioning unit
Cons
The sneakers may not fit everyone's style
10. Nike Women's Legend Essential Training Shoe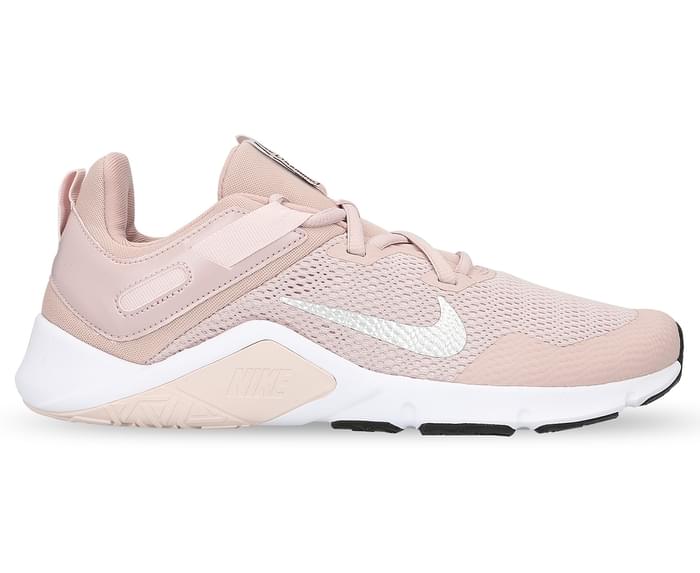 This timeless design of Nike sneakers will make you feel free and elegant. They come with a flat-based sole that is great for weight training, lifting, Crossfit or any other activity at the gym.
Sturdy heel containment and padded ankle collar are promising a great deal of protection.
However, the fit construction can make them uncomfortable during certain activities. I wouldn't recommend them for running or hiking.
Pros
Great for weight training, lifting, Crossfit
A nice sturdy heel containment
Cons
Not suitable for running or hiking
11. Nike Womens Air Max Bella TR 2
If you prefer station workouts Nike Women's Air Max Bella TR 2 training shoes are your best bet.
They have a flexible heel strap that wraps around the back of the shoe to the ankle making them adaptable to your position during any type of gym activity.
These shoes are perfect for long and high-intensity training. However, the wider sole can look unflattering on certain legs.
I wouldn't recommend these shoes for runs.
Pros
Great for indoor workouts
Flexible strap
Very adjustable shoes
Cons
Specific colour combinations that may not fit everyone's wardrobe
12. Puma Women's Speed Orbiter Running Shoe
These workout shoes for women are simply – too cool for school. The design is one of a kind, however, the sneakers are very versatile and can be worn during many activities.
They are made out of knitted breathable mesh material which is great for working out at the gym or running.
They also have added a rubber sole and propulsion plate for faster gait and stride.
Even though they are great shoes, the vibrant yellow, pink, and white combo may be too much if you are on a hunt for a simpler design.
Pros
Added rubber sole
The knitted breathable mesh material
Cons
Less flexible in comparison to other running sneakers
Which Is the Best Women's Gym Shoe?
The Nike Women's Quest 2 Running Shoes are the number one product on our list when it comes to gym and training shoes for women.
They are superior due to the level of stability they provide. Nike Women's Quest 2 Running Shoes are versatile, meaning adaptable to the feet, easy to put on and with a light sole.
Related post: Best trail running shoes for women
FAQ
How to Choose the Best Gym Shoes
Finding the best gym workout shoes can be very tricky. Trainers can differ in material, elasticity, design and weight. Think about your sports activity and goal before choosing the right sneakers accordingly.
In general, all workout shoes for women can be divided into few categories:
Running shoes and walking shoes best for jogging, hiking, and exercise walking.
Training Shoes best for indoor training and gym workouts.
Court sport shoes best for court sports (tennis, basketball, and volleyball)
Field sport shoes best for outdoor sports activities (football and baseball)
The fit is as important as the style, so always check the sizing guide before making a purchase. The size of the sneakers can vary from the brand to the model of the sneaker itself.
Certain types of sneakers are intentionally designed with a wider or narrower sole, so take the time to accurately measure your feet when shopping online.
You will probably need to re-lace the shoes to adjust them to your feet. Make sure to check the fit by trying the shoes after a workout or run, or at the end of the day, when your feet are slightly enlarged.
Take into consideration the height of the heel when looking for a new pair of gym buddies. It's crucial for your foot to feel comfortable and protected during workouts. The shoe should firmly grip your heel and shouldn't slip as you run and workout.
When Should You Replace Workout Shoes?
A few fundamental signs suggest it's time to replace your old training shoes with a new pair.
Indications that you need to replace your shoes:
If you're experiencing discomfort or pain in your legs or feet that wasn't there before, you may need to change your athletic shoes.
Your sneakers are unwearable if the sole is unevenly worn down on one side.
The cushioning will compress with time and usage. Replace your sneakers if they start to feel loose and less supportive.
Lastly, change your sneakers if you plan on switching your workout routine.
What Kind of Shoes Should You Wear to the Gym?
Ideally, at the gym, you want to wear training shoes that will protect your feet and optimize your workout.
You can choose from a variety of shoes for running, cross-training, and lifting available on the market.
All these sneakers are designed to have a firm sole and elastic – breathable material.
What Shoes Should You Not Wear to the Gym?
Avoid sneakers that are specifically made for court sports and field training. Most gym shoes will provide you with the needed support, especially if you're just going to the gym to do light cardio [2].
However, for heavy training, you might need specialized pairs of shoes. Regardless of the activity, stay away from tight or ill-fitted shoes.
The Bottom Line
I hoped you found this article helpful.
Usually, workout shoes with a higher heel are best for weight lifting and high-intensity cross training. Running sneakers are designed with a lower heel and lighter foam.
Focus on the movement in your workouts and based on that decide which are the best workout shoes for you.
Make sure to choose trainers carefully and think of how they fit your lifestyle, routine, and wardrobe.
Sources
https://www.nytimes.com/2017/03/10/learning/does-better-sports-equipment-unfairly-improve-athletic-ability.html
https://thefrisky.com/benefits-of-wearing-good-running-shoes-for-workout/